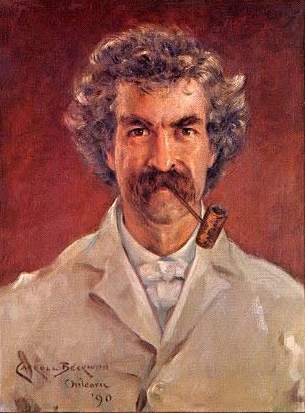 Beckwith's Twain at JS Sargent Museum
FROM: Hannibal, Missouri; Bluff City Memories. By Steve Chou
Two photos of individual homes with Mark Twain connections include C. R. Martin's 1900 photo of the Clemens family Hill Street home on page 33 that the photographer would use to create the earliest post cards of what we now know as the Mark Twain Boyhood Home. On page 67 is a photo taken during the1920s by the Frazer Studios of the home where artist Carroll Beckwith was born in 1852, this house is only a block and a half west from the Clemens home. The year after Beckwith was born Clemens left Hannibal. Thirty-eight years later the two fellow Hannibalians would meet at a resort in Onteora, New York and Beckwith would paint a colorful portrait of Mark Twain with a corncob pipe clenched in his mouth that would be featured on the cover of Harper's Weekly, September 26, 1891.
FROM Mark Twain's Autobiography
[Dictated, October 10, 1906] Susy has named a number of the friends who were assembled at Onteora at the time of our visit, but there were others -- among them Laurence Hutton, Charles Dudley Warner, and Carroll Beckwith, and their wives. It was a bright and jolly company. Some of those choice spirits are still with us; the others have passed from this life: Mrs. Clemens, Susy, Mr. Warner, Mary Mapes Dodge, Laurence Hutton, Dean Sage -- peace to their ashes!
J. Carroll Beckwith